Pressure Relief Valve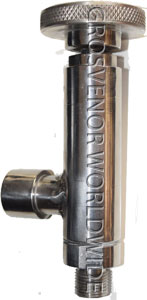 Pressure Relief Valve is a self operating valve that is used to relieve pressure by allowing the pressurized fluids to flow from an auxiliary passage out of the vessel or process system. Pressure relief valves are designed to protect chemical feed systems from overpressure damage caused by defective equipment or deadheading. When the set pressure exceeded, the pressure relief valve is forced to open & the portion of the fluid is diverted to the auxiliary route. As the fluid is diverted, the pressure inside the vessel or process system will drop and once it reaches the valve's resetting pressure, the valve will close. This will protect the vessel or process system from damage due to abnormal excess pressure conditions.
Grosvenor Worldwide manufacture premium quality metallic and non metallic raw material to fabricate a high end range of pressure relief valves. Fitted at the discharge end, these pressure relief valves are used for curbing any damage or harm caused to the equipment and its components because of sudden increase in excessive pressure.
Valves are available in ¼" to 3" sizes , pressure upto 350 kg/cm2, MOC in SS 304 / SS 316 / SS 316L or any other as per required.
These type of valves are preferred by clients for its durability and long lasting life.
Specification
Features

Lifting Lever
Stainless Steel Springs
Adjustable Blow-Down
Sizes: ¼" to 3" in BSP End ( Screw End)  & Flange End   
For liquid service, valves are tested on Hydraulic test bench
Testing standard as per API
MOC: SS 304 / SS 316.
Higher capacity level
Pressure relief
By-pass & Overpressure Protection
Safety Relief Valve Spring Loaded

Compact design
Superior finish
Long service life
Robust construction
High efficiency
Corrosion resistant
Easy installation
Low Price
Accurate dimension
---
*** Our policy is to continually develop and improve our products and we therefore reserve the right to modify products without any notice.