Y Type Strainer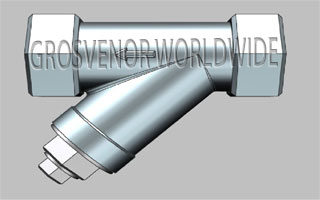 Grosvenor provides customers with a wide range of Y-type strainers that functions as a filtering medium in the suction lines. These strainers filter out any solid substances that are larger than the size of the wire mesh and thus, allow flow of clean fluid. We offer our range in SS 304, SS 316, PP (POLYPROPYLENE), PTFE (TEFLON) LINED material in various sizes in order to cater to the diverse requirements of our clients.
Features

Robust construction
Compact design
High efficiency
Precisely design
Hassle-free functionality


Size Range
:
15mm / 25mm / 40mm / 50 mm / 65 mm / 80 mm / 100 mm
End Connections
:
Flanged End / BSP End (Screw End)
M.O.C.
:
SS 304 / SS 316 / PP (POLYPROPYLENE) / PTFE (TEFLON) Lined
Pressure Rating
:
Class 150 / 300 / 600
Service Conditions:
* For maximum protection, collected material must be discharged through the blow-off connection on a routine basis.
* A permanent blow-down line and ball valve with each strainer will result in simplified cleaning.
* Install horizontally or vertically with dirt collecting inside the screen.
* Screen can also be removed and cleaned with solvent and compressed air.
* Inspect the gasket and replace if necessary when replacing the screen.
---
*** Our policy is to continually develop and improve our products and we therefore reserve the right to modify products without any notice.